The body structure supports the vehicle and creates a safe environment for the driver and passengers. Multiple complex assemblies make up the body structure, including; floor pans, upper body pillars, firewall, electric battery tray and wheel arches. By using advanced high strength materials along with world class manufacturing processes, we provide safe, light, high quality stampings and assemblies. With decades of experience producing body structure components, we provide expert engineering support, along with efficient operational performance day by day.
ADVANCED HIGH STRENGTH STEEL (AHSS)
Advanced high strength steel is used to produce light weight, cost-effective solutions for some of the most critical structural components. AHSS is being used more today than ever, due to its key advantages; greater collision impact response and weight reduction. We have extensive experience forming AHSS material for a variety of applications.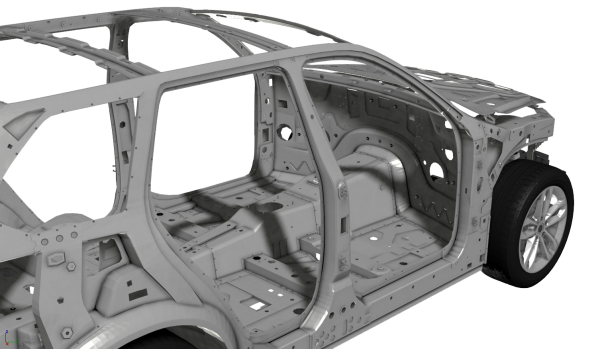 Class-A parts are integrated onto the body structure and define the appearance. We have a long history with multiple product lines of Class-A exterior stampings, including; roofs, doors, body sides and liftgates. Through strict process control, stringent quality systems and our high-speed production methods, we deliver advanced exterior solutions for our valued customers.